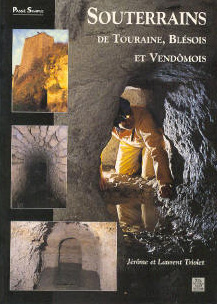 Souterrains de Touraine, Blésois et Vendômois
A new synthesis of underground passages [underground refuges (souterrains-refuges) and ring underground passages(souterrains annulaires)] discovered in the regions of Tours, Blois and Vendôme. The first part presents the studies of 9 new sites in these regions. The second part concerns their building and some testimonies. The book is an accomplished study with maps of the location of the underground passages, statistics, and detailed synthesis of each type of building, using a list of plans of all known French underground passages and also a lot of publications about these regions.
Published by Alan Sutton publishing house, Saint-Cyr-sur-Loire, 2002, plans, schemas and photos included about twenty coloured photos, 128 p.