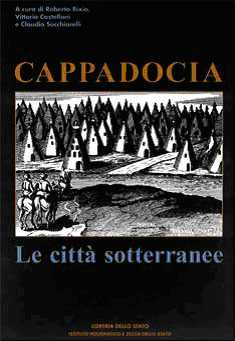 Cappadocia - Le città sotterranee (written in Italian)
A nice book written by several authors by the direction of Roberto Bixio, Vittorio Castellani and Claudio Succhiarelli who have led and made researches in Turkey.
This book summarise all researches in cave dwellings and the underground cities in Cappadocia. The first part is dedicated to the geology of Central Anatolia, cave dwellings, and testimonies. The second part presents the underground cities unstudied by our team in 1988 and some synthesis. We wrote an article about the defence organisation in the underground cities.
Published by Libreria dello Stato, Istituto Poligrafico e Zeca dello Stato, Roma, 2002, plans, schemas and coloured photos, 319 p.